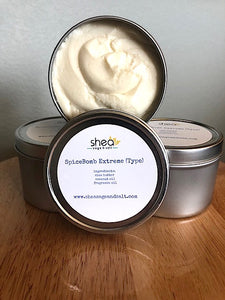 Product Details:
Back-arching, bodacious, aphrodisiac! 
Our fiery rendition of the ever so popular "Spicebomb Extreme" male fragrance leaves a trail of destruction, with high notes of bergamot, grapefruit and black pepper and low notes of woodsy amber and black vanilla.
Mood: Intense (You have been warned)
This product is a butter, it may melt slightly during shipment (typically in summer months). Leave it at room temp. It will resolidify.