Welcome to Shea Sage & Salt LLC.
Thank-you for visiting our store. We encourage you to peruse our featured  catalog and shop for items that you and your family may enjoy. We have an introductory selection of natural bath and body care products with additional items that will be added to the collection in the near future.
Happy Shopping and we hope to hear from you soon!
What is Shea Butter?
Shea Butter is a chemical free, all natural, head to toe moisturizer. It protects, repairs and conditions natural hair. It also soothes skin conditions such as eczema and psoriasis. And best of all, it has no side effects. 
Immediate Benefits:~Presentation ready, glowing skin~Moisture sealant for natural hair~Calming agent  for skin irritations~ Dry skin relief 
Long Term Benefits:~Restores skin elasticity~ Repairs damaged hair and restores shine~Reduces skin inflammation~Anti-aging nourishment~Smooths cracked heels, elbows and knees.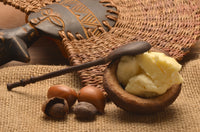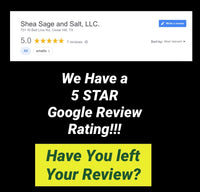 Whipped Shea Body Butter Collection
"Sydni 14"
Lavender
Lemongrass
Unscented
Queen Mother (Signature Scent)
Creed Aventis (Type For Men)
Spice Bomb Extreme (Type For Men)
Coming Soon
It's TOP Secret.. Stay Tuned!
Testimonials
A much needed store in this area. It is so inviting and had exactly what I needed (palo santo wood stick and sea moss). Friendly and courteous ladies makes for a good experience. continued blessings...

Monique D
Heard about this place by word of mouth and I had the best experience when I went in there. Reva was so sweet and easy to talk to. She definitely went above and beyond!! Outstanding customer service!! Highly recommended!!

Danielle Bean
A SATISFIED CUSTOMER!!

It is one thing to order a product and get exactly what you ordered. No one ever complains when this happens. Yet it is something all together different when what you ordered is beautifully and thoughtfully packaged and presented to you! This is called EXCEPTIONAL business practices: The rare caliber of service that keeps you coming back for more!

Thank you,  for demonstrating the value you place on my support of your business venture. Any business person who invests this much thought and effort into presentation invariably offers SUPERIOR products. My natural hair and my heart says, "Thank you!"

Your customer for life,
P Byrd🌸

P Byrd
Shout out to my Sis Reva on this bomb Shea Butter!!! All it takes is a dime size y'all! The fragrance is awesome ANNNNDDD it WORKS on these old hooves!!!! Hurry and get home! I need another JAR!!! J-A-R! JAR (In my Color Purple voice)

S Gray
This product does the job and more... I love it because it is so versatile. The Shea Butter has my girls skin moist!! I would highly recommend anyone to use it!!

C. Ramos
she's amazinggggg she loves creating this butter it's the bomb

M Hardin
So if you're looking for a shea butter mixture for your protective styles that your hair will absolutely love, check out my girl Reva. She got my baby's hair glistening for days. Her hair loves it!

S Beecham
My girls' hair loves Whipped Shea Butter. It keeps their hair super moist in this vicious Texas heat. #naturalhair

S. Charles
My wife created this product this past spring. Our boys suffer from eczema and dry skin. Her whipped Shea butter has completely cleared up their skin conditions. I use it everyday too! My feet, ankles and elbows are no longer ashy!
Testimonials
She has everything you need to heal, sage, Holistic healing , OMG Shes amazing, come and check out these soaps, bath bombs, Himalayan salts!!! I'm excited!!!


Sonya Dorsey
Customer Service was awesome! Brought the sea moss and lemongrass shea butter (and it smells sooo good)!! The owner is so personable!!


Shay Way
My soap has just arrived and it smells so good. Love it.


Kishala Bakersfield
THE BEST place for all you skin and hair needs for sure. Seriously, my skin feels so soft and i smell so nice!

Isis Tolson