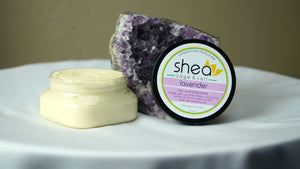 Creamy Lavender Shea Body Butter
Great for those who shower/bathe at night! Lavender naturally soothes and calms the mind and body.
Shea Butter is a chemical free, all natural, head- to- toe moisturizer. It protects, repairs and conditions natural hair. It also soothes skin conditions such as eczema and psoriasis. And best of all, it has no side effects.
Immediate Benefits:
~Presentation ready, glowing skin
~Moisture sealant for natural hair
~Calming agent  for skin irritations
Long Term Benefits:
~Restores skin elasticity
~Repairs damaged hair and restores shine
~Reduces skin inflammation
~Smooths cracked heels, elbows and knees
Ingredients:
raw shea butter, coconut oil, jamaican black castor oil, lavender essential oil.
This product is a butter, it may melt slightly during shipment (typically in summer months). Leave it at room temp. It will resolidify.