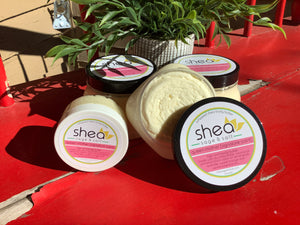 *Top Selling Body Butter*
Queen Mother smells DIVINE  with High Notes of Warm Vanilla, Middle Notes of Sweet Orange and Low notes of Lavender and Lemongrass. This creamy and rich body butter will have your skin looking and feeling like the Queen that you are! 
Whipped Shea Body Butter
Shea Butter is a chemical free, all natural, head- to- toe moisturizer. It protects, repairs and conditions natural hair. It also soothes skin conditions such as eczema and psoriasis. And best of all, it has no side effects.
Immediate Benefits:
~Presentation ready, glowing skin
~Moisture sealant for natural hair
~Calming agent  for skin irritations
Long Term Benefits:
~Restores skin elasticity
~Repairs damaged hair and restores shine
~Reduces skin inflammation
~Smooths cracks in heels, elbows and knees
Ingredients:
raw shea butter, coconut oil, jamaican black castor oil, lemongrass, lavender, sweet orange and vanilla essential oils.
This product is a butter, it may melt slightly during shipment (typically in summer months). Leave it at room temp. It will resolidify.