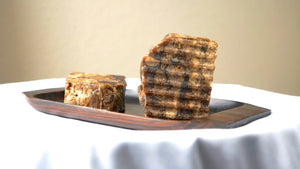 Original African black soap imported from the Continent of Africa
Nature's Cure for All Skin Problems and Skin Types.
This Anti-Bacterial soap is great for Eczema, Psoriasis, Acne and Dermatitis.
 
Ingredients: 
plantain skin, shea butter, palm kernel oil, coconut oil, cocoa pod ash, palm bunch ash,  water
Did you know..
African black soap is made from women in the villages of Africa. It is said that women who make this soap, must not quarrel with their husbands nor  fellow sisters while making this soap. They must refrain from hurling abusive words to one another. Instead, they sing and dance to prevent truncated soap.