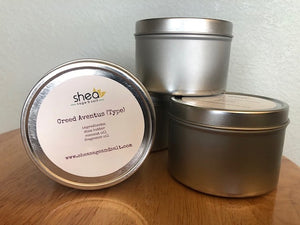 Product description:
Legendary, classic, romantic.
Our Creed Aventus (Type) shea body butter, is the epitome of distinguished manhood.  A perfect compliment to the  "Eau De Parfum" popular male cologne.
Ideal for men who want to reap all of the benefits of a Shea Butter product without a heavyweight scent.
Top Notes: black currant, apple, pineapple. Middle: rose, dry birch, moroccan, jasmine, patchouli. Base: oak moss, musk, ambergris and vanilla
Mood: Mature, Arousing
This product is a butter, it may melt slightly during shipment (typically in summer months). Leave it at room temp. It will resolidify.