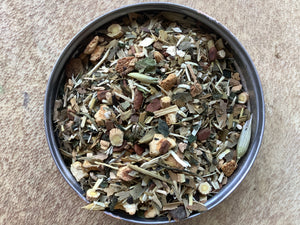 PLEASE READ THE BOTTOM LINE PRIOR TO PURCHASE
Energize your day with this flavorful blend
This combination of beneficial herbs will increase energy levels without jangling your nerves.
It steeps to a golden brew with a pleasing, balanced, clean taste and a slightly sweet aftertaste.

Ingredients: Eleuthero root, organic cinnamon, orange peel, organic ashwagandha root, roasted yerba mate, organic astragalus root, ginkgo biloba, gotu kola, organic nettle, organic oatstraw, organic oat tops, organic ginger root, sweet blackberry leaf, and natural blood orange flavor.
Follow on Social Media:
Facebook/ Shea Sage And Salt LLC .... Instagram / Shea Sage And Salt LLC
PLEASE READ THE BOTTOM LINE PRIOR TO PURCHASE…  PLEASE SEE A MEDICAL PROFESSIONAL TO DIAGNOSE AND TREAT MEDICAL CONDITIONS 
This is a natural product.... Colors may vary...
What is Sea Moss? (NOT RECOMMENDED FOR CHILDREN 12 AND UNDER)

It is a seaweed also known as "Irish Moss."

It offers 92 of the 102 minerals of which the body is composed of.

It nourishes the skin

Boosts the Immune System

Aids in Weight Loss

Alkalizes the Body

Helps Lung & Thyroid Issues

Ways to Use


Smoothies
Dairy Free Elixirs 
Blended Soups
Salad Dressings
Homemade Nut/ Seed Milk
Raw Desserts
Hot beverages such as coffee or tea
*Makes an EXCELLENT face mask*

12 OZ... Will last about 2 weeks (with single person use)

16 OZ... Will last up to 3 weeks (with single person use)



RAW INSTRUCTIONS: Soak in Alkaline Water (MOST POTENT OPTION) or Spring Water for a minimum or 24 hours. Blend until smooth.



A few things to consider prior to placing an order

There are several vendors who carry this product readily available to the consumer on demand. However, the ultimate objective is for you to reap the benefits at the maximum potency. Therefore, we serve this product to you on a "Per Order" basis. Thank-You in advance for understanding the ordering process

After placing your order, YOU WILL receive a notification from the system to pick up "In-Store/ Local" with-in 2-3days of ordering.

THIS PRODUCT MUST BE REFRIGERATED 3 DAYS AFTER BEING PROCESSED, Therefore, you must pick up your order upon receiving notification as it CAN NOT Be refrigerated on the premises at your request.



701 W. Beltline Rd, Cedar Hill, Tx. 75104

STORE IS NOT RESPONSIBLE FOR PRODUCT NOT PICKED-UP AFTER NOTIFICATION IS SENT OUT VIA EMAIL, CALL OR TEXT
Store is not responsible for delayed shipping VIA USPS

Call/Text if you can't pick-up your order 469-249-2322 (Things Happen..we understand)