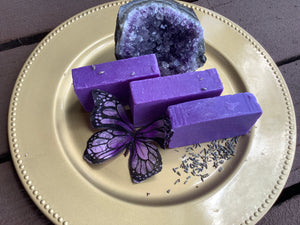 Our Cold Press Soap with Lavender blend has a very creamy lather with a fragrance that lingers on to the very last piece. It contains sea salt as an exfoliant.
Ingredients:
olive oil, soybean oil, coconut oil, corn oil, sunflower oil, organic shea butter
water, sodium hydroxide (lye), sea salt, fragrance
Please note that due to the handmade nature of this soap, color shades and swirl styles may slightly vary. Each loaf and bar is unique.