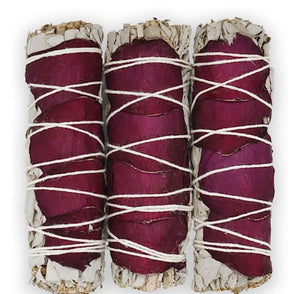 "Rose Petal Sage"
Love
Passion
Self Love
Relationships
All kinds of "Ships" …. Romantic, Mother, Father, Sister, Brother Etc…..
  Benefits of Sage Smudging:
~Clear argumentative energy
~Increase positive energy
For those who are new to burning sage, please take into consideration that this herb will emit a small smoke cloud. You must open a window or door to allow the sunlight to flood the room along with the fresh air.
Sage sticks= Clean Air/Clean Vibe
Palo Sticks= Smooth Vibe ~Compliments  Sage and cranks it up a notch!